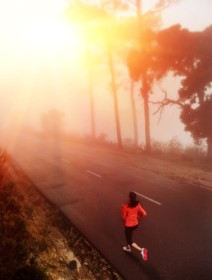 As summer is now officially over, and we look towards the change in season, don't let the idea of cooler weather prevent you from working out.
I say, "Let the road be your gym"!
There are no membership fees, wait lines to use equipment, or any traffic jams to get annoyed by…
In other words, working outdoors is free…and its fun!
Let the cooler temperatures inspire you to begin a new exercise, or take your current one into the new season!
If you're a runner, there's nothing better than running through a pile of freshly fallen autumn leaves along your route! Or enjoy the sights along the way while you and your 4-legged (or even 2-legged) friend walk briskly together on one of our many discovery walking paths. Get taken by the beautiful colors around you and feel the refreshing crispness in the air as you pedal along on one of our city's amazing bike paths. Or why not finally join that Boot Camp class you've been thinking about taking that's being offered at the local park!
There is no gym in the world that can provide the sights, the sounds, and the freedom that you get when you're outside, and the fall is the perfect time to enjoy your sport!
There are so many fitness-related activities to participate in today that can bring you back to a time when fitness was fun…when all we had to do was go outside!
So, get hip, get your running shoes on, and get back to the basics and decide to make Fall 2016 be the beginning of the new old you!