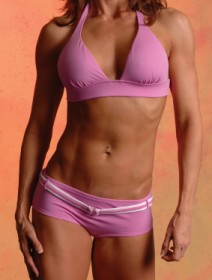 It's not uncommon that with a New Year comes a new start! Resolutions are the first things we begin to think about, "what to and what not to do".  And when it comes to your eating habits, wanting to change them is traditionally one of the top 5 resolutions that we make.  
I say, "Thumbs up" on that resolution! 
And I also say, "Do it differently this year!"
Instead of going on a "traditional" diet, I say make the "Resolve to Have No Regrets" Resolution when I t comes to your eating habits!
How do you do that?  
All you need to do is every time you're about to put it in your mouth ask yourself the following 3 questions: 
Am I hungry,

Is it a smart choice, and

How will I feel after words (based on past experience)
It sounds quite simple, I know, and you're probably thinking, "What kind of basic diet advice is that"? 
Well, sometimes the basics is a great place to start! And what it is, is a tip on how to get conscious about your eating–and when you get conscious about your eating, you gain greater control over the choices you end up making.  Also, when you keep the motto of "Resolving to Have No Regrets" in the back of your mind, you are creating a new mindset that enables you to make those new choices from a place of strength, which will help you achieve your true desire towards reaching your goals. 
So, the next few weeks will be relatively easy to keep your resolutions intact because they'll still be fresh in your mind, but I'm just sayin', that it's possible, a day may come when an old habit may begin to creep back into your world, and it's at that very moment when it's most important that you loudly ask yourself those 3 questions, and remember to remember that 2018 is the year that you have completely and utterly decided that you have "Resolved to Have No Regrets"!
Now, that's a resolution you can keep!
Here's to a Happy, Healthy, and Regret-Free 2018!