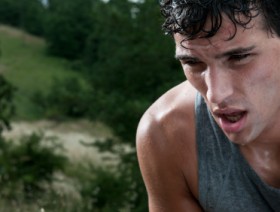 How long should it take to recover after a vigorous cardiovascular episode?
If you're a healthy individual, the general rule of thumb should be within 2 minutes of ending that bout of aerobic exercise.
If you're still huffing and puffing after 2 minutes, than you need to spend more time on your cardiovascular fitness!  Being "out of shape" cardiovascularly will show not only in your endurance levels, but it will also show specifically in your recovery times!
The best way to shorten the length of time it takes your cardiovascular system to recover, and be ready to "go again", is to increase the time you spend on your cardiovascular health and stay consistent with it!
What that looks like is engaging in any aerobically repetitive activity, such as biking, walking, running, swimming,  or stair-climbing to name a few, for a minimum of 20 minutes per session for a minimum of 3 sessions per week (for healthy "first-timers")!  Once you get that base line, which should take approximately a few weeks, you can then begin to gradually increase the number of sessions, and or minutes per session, at a steady rate.  Once you have established an even "healthier" base line, you can then incorporate HIIT (High Intensity Interval Training) into your routine!
If you stay consistent with your program, along with your progression, you will begin to see within a relatively short period of time your cardiovascular fitness levels increase!
So, aim for getting under 2 minutes, by increasing the minutes you spend on getting there!