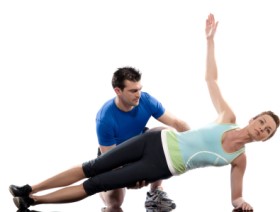 With so many Personal Trainers and Fitness Consultants out there, how do you wisely choose someone with whom you are going to invest your health, body, and your hard earned dollars in?
Good question! 
Well, here are some tips to keep in mind when choosing a Personal Trainer:
Recommendations and Referrals: First off, ask around for recommendations.  Usually, a positive experience from either a friend or a colleague is a good place to start.  Your local reputable fitness organization or fitness facility are also good places to find a Trainer. 
Certifications and Credentials: Look for someone with recognized credentials.  CPTN, CanfitPro, CSEP, and ACE are just a few of the reputable certifying bodies out there.  Pay attention to the designations and experience your Trainer has—and do your research!  You don't want a Trainer who just calls themselves a Trainer because they workout in the gym and have big muscles to show for it!  You want a Trainer who has education behind them and the knowledge to know what to and what not to do! If you have any issues that need special care, such as back pain, or osteoarthritis for example, make sure your Trainer of choice has experience and education in that area. You don't want to entrust someone who is going to put you at risk for further injury!
Go With Your Gut: Having all those designations doesn't amount to a whole lot if you don't feel comfortable with your Trainer. Not only must he or she be educated, but they must also be a good fit for you.  Ease of communication on both sides is paramount!  Listen to your instincts about your compatibility when choosing a Trainer.  If it doesn't "feel" right, then it's not! Next!
Professional Liability Insurance and Business Policies: A reputable Trainer has liability insurance, is CPR certified, and has business policies, billing procedures, and cancellation policies in place.  Make sure you understand them, and even get them in writing, so there is no misunderstanding down the road.
Confidence and Results:  In order to get results, your Trainer not only has to "coach" you effectively, by motivating you and implementing proper exercise prescription, but keep in mind, you must also do your part too by doing the work!  Inconsistencies on either your part or your Trainer's will only result in both of you not achieving your goals!  So look for a Trainer who you have confidence in to help you reach your desired results!
If you've made the decision to hire a Personal Trainer, than make sure you hire the one that works best for you!
You'll see, it just might be the best money you'll ever spend on yourself!